In 2007, Libira Ripening began operations. Currently, it is a brewery operating in Ginegar and a restaurant in Haifa.
A wide variety of light dishes accompany the beer like duck salad or beer buns with anchovy butter and more serious dishes like beef stew in Belgian ale or entrecote 300 g in a mushroom cream sauce and stout with crispy gnocchi.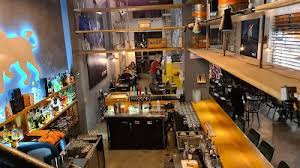 We'll let the barrel flow; let's burn the daily – Liberia produces five types of beer: smoked stout 5.5%, bitter ale 5.5%, Belgian ale 7.5%, double 5.5%, and light wheat beer 5.5%. In Liberia, it is customary to pay homage to other breweries by offering a rotating guest beer, carefully selected by the captains of the restaurant, as part of the rich menu of Libra restaurant. A rotating guest beer is also offered to honor other breweries.